My Story of Personal Healing
In 2001 I retired from a corporate job which I had enjoyed while designing manufacturing facilities for LCD glass in Asia. I was looking forward to long and prosperous years pursuing travel and education for "the fun of it" with my husband.

One of my managers referred to it as a time of "re-careering."  However, eight months into this new experience my life took a major shift in direction. I found out that family members were facing unresolved childhood traumas. I was devastated! In my own sadness my life became cluttered and reflected my internal state of powerlessness. I decided then I would do whatever I could to help heal my family.  I wanted to find solutions for all of us. And so I began a journey of seeking, and I discovered the importance and value of healing modalities such as Feng Shui, Emotional Freedom Technique, and other energy work. I did not realize at the time that it was more than a

natural instinct

for me to seek solutions.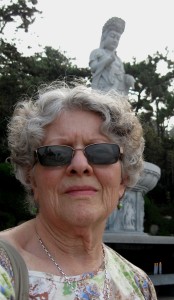 Discovering a Solution
One of the courses I studied first was Feng Shui, which I had become interested in while working in Taiwan with Chinese architects. By improving the energy flow in one's surroundings, the effect is to enhance the energy flow in the person. It's amazing how small adjustments can completely change the way energy flows.
I also discovered Emotional Freedom Technique (or EFT). For me this was a key to uncovering root causes and clearing limiting beliefs – what an "Ah Ha!" moment! EFT is a process that you 
participate
in rather than being in "talk therapy." With EFT I was able to diminish a lot of my pain, anguish, and clutter! It helped me accept that I'm okay just the way I am. After experiencing the results firsthand I immediately started the process of becoming a practitioner myself.
"You know, it looks like you are supposed to empower other people to be able to heal themselves."
An astrologer once told me, "You know, it looks like you are supposed to empower other people to be able to heal themselves." For years I did not know how that would happen. Now that I understand my Human Design as a "storyteller" I know that I have a message to share, so others can feel empowered and free of the "clutter" in their lives, inside and/or out, to move into alignment and fulfillment with their purpose.
My training includes:
EFT Level 1 and 2, Matrix Reimprinting, The Reconnection Level 1 and 2, Quantum Touch, The Emotion Code, Diamond Feng Shui & Advanced Training, Diamond Dowsing & Advanced Training, and many Human Design courses.
Services:
I approach alignment and healing with a variety of tools: