Hexagrams:
Hexagrams are best known as the pictorial feature of the ~ 5000 year old Chinese system for personal guidance and prophecy called the I Ching or Book of Changes.  The use of yin and yang, female and male, symbols and oracles creates a perfect combination of evolving guidance to follow through life.  The I Ching was adopted and modified by the Taoists who referred to it as the Tao or "The Path."
The Road Map to the Universe
The I Ching presents the concepts of balance between heaven, human, and earth energy.  The spiritual translation of I Ching is "I" means one with God and the universe.  The "Chi" means energy and the "ng" refers to the angle.
Consider the I Ching as a roadmap for all the angles or points of entry to our time and space frame of experience, a circular wheel surrounding us wherever we are.  The hexagrams show symbolically these points of entry.  In Human Design and The Gene Keys the personal mandala is encircled by the wheel of the I Ching hexagrams.
Hexagrams Explained
The system of Diamond Hexagrams devised by Marie Diamond, a modern day Feng Shui Master, uses their capacity to emanate focused energy from the universe for your greater benefit.
For each of the 64 hexagrams there is an oracle (theme), and each hexagram has 6 parallel lines (solid – yang or broken – yin) with a corresponding verse for each.  The total of  (64 X 6 =) 384  hexagrams correspond to slightly less than one degree between them in 360 degree compass spacing.  #1 line is at the bottom and #6 is the top.  "O" is used on a solid line to show where a verse of the oracle is selected, or "X" when the line is broken.  The hexagram itself acts as a bar code which you scan every time you pass near it… similar to the optical scanners in stores.  However, you are the scanner and the hexagram is providing the information. The intent is for you to entrain to the positive (auspicious) vibration it contains.
Your home's front door faces a compass degree which corresponds to a hexagram line and a verse for that line.  Entering and exiting your home through this door repeatedly attracts the experience of the story associated with this angle and verse.  It is considered the Law of Attraction for your home.  This can be either auspicious or ominous (using Chinese words), depending on the angle.
In the past, the Feng Shui Masters would hang magnets on the door to change the compass reading.  The simple way to accomplish that in modern times is to hang an appropriate hexagram above your door to effect change.
Order a Hexagram: scroll down for Human Design hexagrams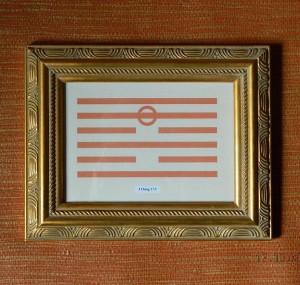 This service includes an unframed  5″ x 7″ hexagram personally dowsed for your personal energy directions and ready for your framing along with an explanation of the verse and active line chosen for this doorway compass angle. Provide me with the compass reading (in degrees) while standing at a 90 degree angle to the plane of the door opening while looking out.  If using a traditional compass, ensure that you are not standing within the field of influence of any magnetic materials – steel doors, structural steel beams, iron railings, base metal jewelry, etc.  If the front door is not the one most used, then choose a different door…. or more than one door.
Personal hexagram:  $36.66 ea + tax & ship = $45.00   Allow several weeks for completion of your custom order.  For more than one hexagram, separate the angles by commas in the box below.  No additional shipping for multiples.
Hexagrams for Your Best Directions
There are Hexagrams especially effective for supporting the four Personal Best Directions, as their energy has proven itself. I am offering these hexagrams at a special price of $8.90 each + tax & ship = $15.00, since I do not have to dowse for them and the verse associated. They are pictured here for your selection. They measure 5″ x 7″ and are ready to frame.



Hexagrams Ready to Frame and Hang
Success – The I Ching 14.6 hexagram supports wealth without greed.  Place this hexagram in your Success direction for material fulfillment without being aggressive.  Or place this in your Relationship direction to awaken your feelings for your partner.  Place this in your Health direction for understanding that living with "less is more".  Place this in your Wisdom direction for recognizing and learning from wise sources.
Health  (and Overall Well-Being) –The I Ching 28.2 hexagram supports rejuvenation and health in the Health direction.  For healers, place the hexagram above the door inside your office or meditation room.  If seeking healing, place it in your Health direction or above your bed headboard.   Or place it in your Relationship direction to support passion and love with your partner.  Place this hexagram in your Wisdom direction to rejuvenate your spiritual life.  Place it in your Success direction to create a renaissance in your business or career.
Relationships – The I Ching 20.4 hexagram is especially good for Relationships.  The shape of the hexagram itself is a tower and also the shape of the Chinese symbol for Tao, the way.  This hexagram is also used in the Success direction to support influential social or political positions.
Growth – The I Ching 11.2 hexagram is especially powerful for the Growth/ Wisdom direction.  This imparts the energy to see all things as equal, to act with consistent principles, and undertake difficult things as naturally and spontaneously as you undertake the ordinary.
Balance –The I Ching 1.0 hexagram has six moving lines, instead of the usual one moving line, indicating a perfect balance in you.  Mind and body, objectivity and subjectivity, masculinity and femininity, activity and passivity, are all in balance.  This is a very auspicious hexagram and can be used anywhere.
A Starter Page of Hexagrams for Personal Best Directions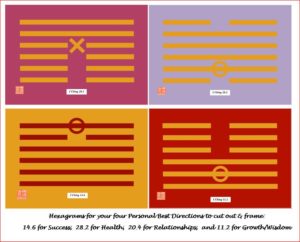 These hexagrams are 3 1/2″ by 5″ and are to be placed in your personal best directions and are offered at $13.51 + tax & ship = $20.00.  Select "Start Four" for this group.
Hexagrams for the Cardinal Directions
In the event that your home's compass readings align with the cardinal directions (North, South, East, West), these are referred to as "Temple Lines" because churches, temples, mosques, etc. were built aligned on these axes.  Typically, the vibration of these directions cause a person to be focused on "higher purpose" and less interested in every day living goals, which can be a strain on personal relationships.  Shifting these energies in one's homes is highly recommended.  Examples of these hexagrams are shown below. They measure 5″ x 7″ and are ready to frame.  These are also $15.00 each.